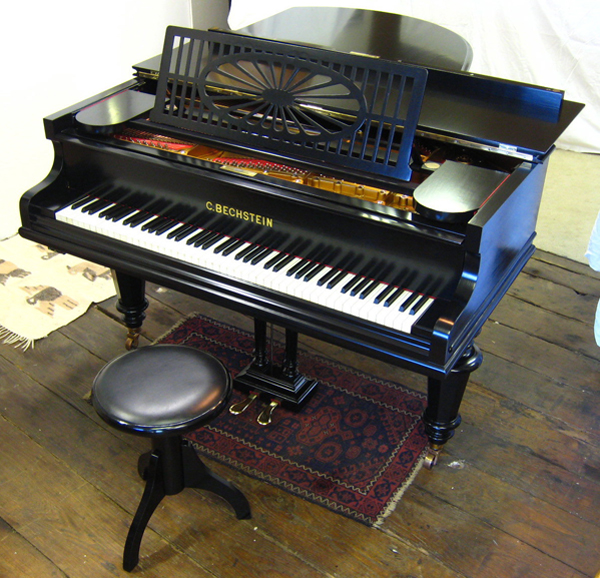 Serial #110302. Ebony case with matching stool, perfect ivory, new Dampp-Chaser climate control system. $24,500
Carl Bechstein built his first piano in Berlin in 1853 and soon earned the respect of great piano composers such as Debussy and Liszt, and Bechstein pianos fast became a standard by which all other European pianos were made. After several setbacks during the world wars of the 20th century, Bechstein pianos are still in production and have regained their reputation as being among the very finest pianos in the world.
This Model A, built in 1914, was shipped to Warsaw at the request of its owner, a German army officer stationed in Poland during World War I. At the end of the war, he sold the piano to a Polish family, who subsequently emigrated to Tel Aviv in the late 1930s, taking the piano with them. An Israeli family bought the piano in 1962 and in the late 1980s, upon the father's death, the piano was shipped to his son in New York City.
The piano has been completely restored. The original stool remains with the piano, which has been refinished in satin ebony. The original ivory is in perfect condition, and the original soundboard has been shimmed and refinished. The new hammers, shanks and flanges are manufactured by Helmut Abel, a German maker of high quality action parts. The damper and action felt has been replaced, and the piano has been fitted with a new Dampp-Chaser climate control system. The action is medium weighted, very responsive and a joy to play. Its clear, singing tone is the hallmark of Bechstein pianos.
$24,500 -SOLD-